Four Paws, Two Feet, One Team, One Campus
Pilot Dogs to Launch Capital Campaign for a New Kennel Closer to Facility
Pilot Dogs, Inc. has been serving the blind and visually impaired community since 1950. We provide a unique form of independence and mobility through the use of dog guides. Over the years we have trained over 7,500 individuals in the use of our Pilot Dogs.
Our service to students includes roundtrip transportation, a four week training course, room and board, the trained dog and necessary equipment – all provided to the qualified applicant at no charge. We have grown from graduating four individuals in our first year, to an average of 150 graduates each year. We must continue to grow in order to best meet the needs of the visually impaired population we serve.
In our 65th year, we launched this capital campaign to realize a decade's long dream for our program – building a new kennel on the property adjacent to our main campus on Town Street! This will replace our current kennel on Stimmel Road, which is in need of significant repairs to remain in service. It is time to improve facilities for both our dogs and the staff who tend to them.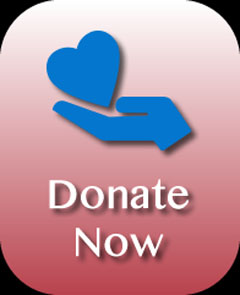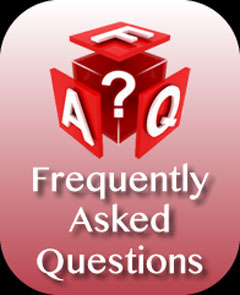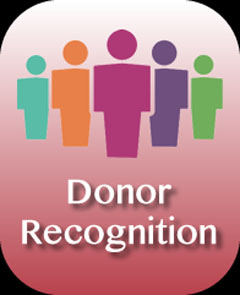 The ultimate goal is to have our entire organization working from one location.
Our dogs have to be transported four miles round trip between the Stimmel Road kennel and the Town Street location about four times each day. This shuttling creates stress and safety risks for our dogs. When the kennel is finished, we will realize great efficiencies in our operations, including our trainers having more active training time in their work day and our dogs becoming less stressed and more attentive.
Another great improvement is the addition of a hospital ward. We hope this will allow us to establish a relationship with OSU and develop an internship program so that our dogs can be examined, treated, spayed and neutered at our location. We will have all of the dogs who leave our program – whether as guides or career change dogs – spayed or neutered. The hospital ward will also include an isolation unit with separate ventilation. We will separate any dogs that become sick from the general population. Preventing the spread of illness and providing sick dogs a quieter, more comfortable place to heal is the result. The kennel will be able to house 160 dogs, sustaining our projected growth for at least the next two decades. The individual dog kennels will be 10'x10' allowing us to house two dogs per kennel for socialization and companionship.
Our current kennels are 4'x6' indoor and increase to 4'x12' with an outdoor portion. The outdoor runs are very inefficient, cause high heating costs, and allow birds and rodents to access the building. The new kennel will be fully enclosed and climate controlled, eliminating the risk of injury and/or illness from birds and rodents and keeping the dogs more comfortable. The new kennel facility allows for growth to serve our students, improves operational efficiency, and contributes to the safety and comfort of our dogs and our attending staff. We believe this facility is a sound, necessary investment in our future.
Click the image below to download a copy of our floor plan.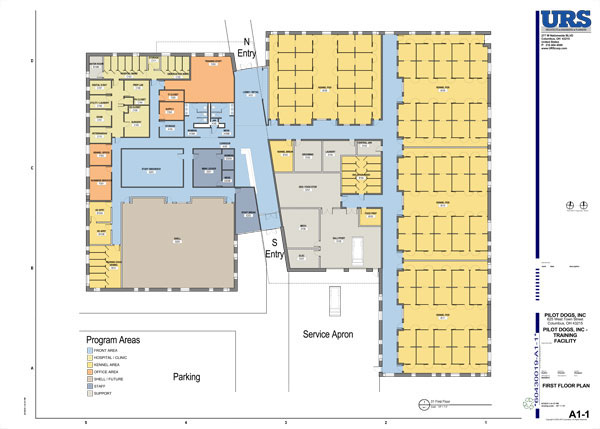 Additional views of the building plan.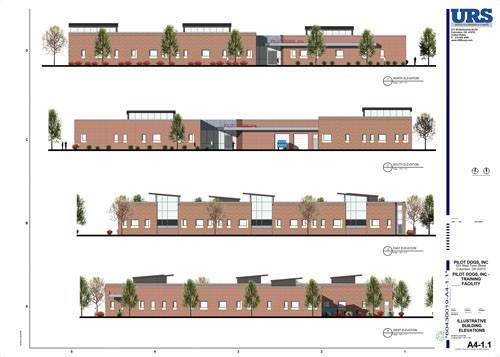 ABOUT OUR ADOPTION PROCESS…
When a dog does not make it through our dog guide program, we first offer them back to their breeder and Puppy Raiser. If neither is able to take them, we adopt them out to the public. Not every dog is right for guide work and when you are called about a dog available for adoption we will furnish the reason they did not pass.
Dogs are adopted out ALL-YEAR LONG. However, to try and keep our waiting list manageable we accept adoption applications in the months of June and December only.  If you submit an application in either month and are not called about an available dog for adoption before the next open application month, you will need to re-submit your application.  Your application will be placed higher on the waiting list than those applying for the first time. If you send an application anytime outside of the months of June and December, it will not be kept or added to our waiting list.
We regularly use the following seven breeds, which are listed in order from most common to least common in terms of availability for adoption: Labrador Retriever, Golden Retriever, German Shepherd, Boxer, Doberman Pinscher, Standard Poodle and Vizsla. Please note that the wait for all but the Labrador Retriever and Golden Retriever can be a year or more. Over 50% of the dogs who come through our program each year are Labs, therefore they are by far the most common breed available for adoption.
Occasionally we have retired Pilot Dogs available for adoption. These are dogs that have gone out as guides but are no longer working and the person they were guiding chose not to keep them as a pet. They are older than our career change dogs.
When you are called about an available dog, you will have 48 hours to notify us as to whether or not you will adopt them and set up a time to do so. After that, we will move on and contact the next person on the waiting list and your application will be cycled to the back unless you asked to be removed from the list altogether. We do ask for a $200 donation for our dog adoptions. All dogs are spayed or neutered and are up to date on vaccines.
Download the Adoption Application Form