Orientation & Mobility Program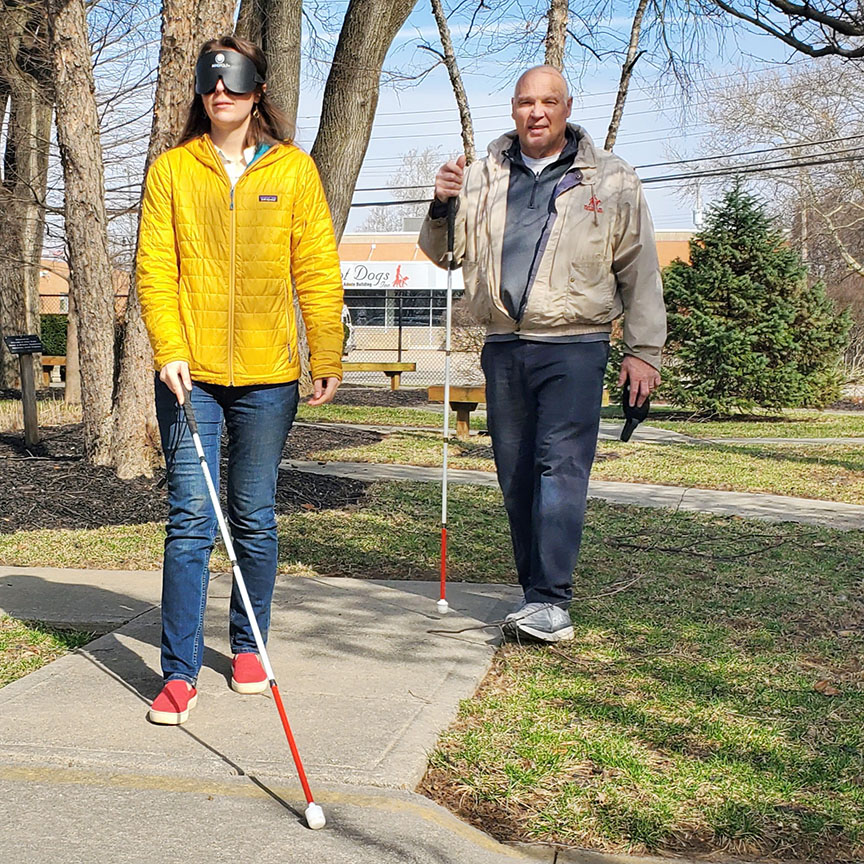 The Orientation & Mobility Program is a two-week residential training course designed for individuals who are legally blind who want to learn white cane travel or improve upon existing cane and traveling skills, and further their goal of becoming safer, more independent travelers.
Pilot Dogs provides round-trip transportation, room and board, and a white cane.
Our Certified Orientation & Mobility Specialists teach concepts and techniques necessary for travel through any environmental condition and situation. Students will learn how to use their senses to determine their position within the environment and techniques for safe movement from one place to another.
Lessons include:
Human guide technique Upper and lower body protective techniques Squaring off and trailing White cane techniques Cardinal directions (north, south, east, and west) An opportunity to walk with a Pilot Dog For those individuals with some remaining vision, a sleep shade will be provided during some lessons to improve non-visual skills.
Real-world applications include:
Crossing streets in residential, commercial, and urban areas Crossing streets with simple and complex light-controlled intersections Traveling in areas with no sidewalks Soliciting information in stores Navigating driveways and parking lots Riding public transportation Learning how to use APS (Accessible Pedestrian Signals)
Your Stay at Pilot Dogs
Qualified students enrolled in the Orientation & Mobility course will spend two weeks in residence at Pilot Dogs.
Accommodations
Our rooms are simple and comfortable, complete with a queen bed, storage space, a TV, and wireless internet. Linens and towels are provided.
We have an exercise room, laundry room, and laundry service for linens and towels.
A braille writer and CCTV are always available.
Home-cooked meals are provided in our 421 Bistro, and our dining staff is accommodating to different dietary needs; additionally, we have a soda machine, snack/candy machine, refrigerator, microwave, and coffee. 
Visitors are welcome on a limited basis. Mail is always welcome and a telephone is available for calls.
Smoking is permitted in designated areas only.
Daily Schedule
The day begins at 6:00 a.m. and breakfast is at 7:00 a.m.
Class starts at 8:00 a.m. with 2-3 lessons in the morning.
Lunch is at noon, with class resuming at 1:00 p.m. There are 2-3 lessons in the afternoon.