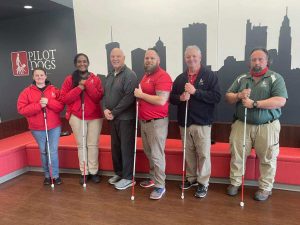 As of April 2022, Pilot Dogs will now be servicing Certified Orientation & Mobility Specialists for their continued education. The Academy for Certification of Vision Rehabilitation & Education Professionals (ACVREP) has accepted Pilot Dogs as a Registered Provider of Professional Learning and Education (RPPLE®), further enhancing the quality of services for the blind and visually-impaired community. 
APS & Mobility Aid seminar scheduled for December 2022!
If you are a COMS professional in need of continuing education hours, or just interested in learning more about visual impairment and mobility aids, please join us for this FREE, in-person APS & Mobility Aid seminar!
You will learn through discussion and demonstration

about the basic functions of APS (Accessible Pedestrian Signals), the challenges those with visual impairment face when operating these systems, and techniques that COMS can implement.
Not only will you have a
fun, information-filled day at Pilot Dogs, but eligible COMS will earn 4.5 ACVREP-accredited CE hours in the process!
Details:
Who: Anyone
What: APS & Mobility Aid Seminar
Where: Pilot Dogs (625 W. Town Street, Columbus OH)
When: Saturday, December 10, 2022 from 9 a.m. - 1:30 p.m.
Cost: FREE (light lunch provided)
Topics include:
Accessible Pedestrian Signals (APS)
White cane vs. guide dog mobility
Troubleshooting mobility aids
Pilot Dogs 2.0 - our history and our future